In what must have been a belt-tightening measure, the production was consolidated to only one model, the Model "9", in both Roadsters and Tourings. While Cartercar lasted longer than some other companies bought up in the first year of GM (1908-1909), it did not build any cars after May 22, 1915, although the corporation wasn't dissolved until later.
"Gearless Transmission Triumph" / "The New Cartercar and The New Cartercar Policy"
"With the advent of the new season, August 1st, 1914, the manufacturers of the Gearless Transmission Cartercars announce that their policy will be to concentrate all the energy of their present efficient organization on the production of but one model chassis and this on the embodiment of all the distinguished features of the other Cartercars – yet better than any of them"
1915 Model 9R - Roadster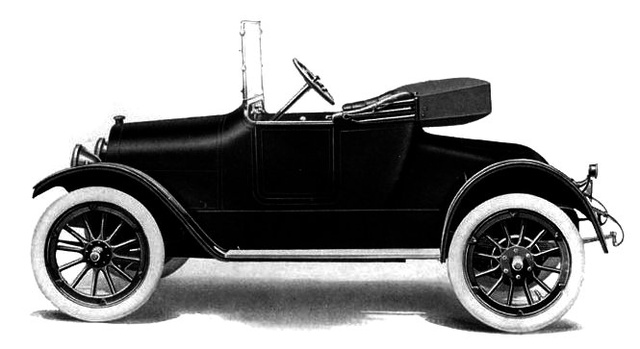 1915 Model 9T - Touring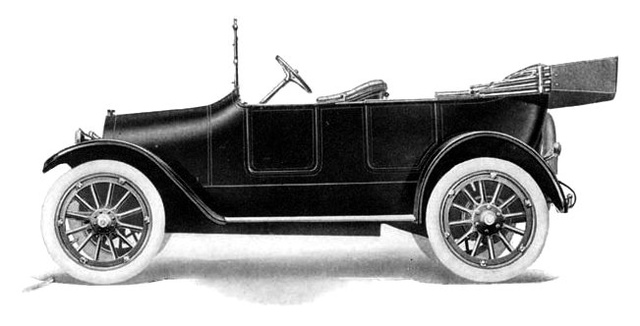 Detailed Specifications - Model "9"
The Model "9" chassis was very similar to the Model "7" chassis that preceded it, but the body was new and had a streamlined shape. It was offered with both touring and roadster bodies. The model year started on August 1, 1914 and ended Saturday, May 22, 1915 when Cartercar production ended permanently. There were no 1916 models.
Motor 192.4cu 4cyl cast enbloc L-head, 30HP @ 1700rpm (rated at 19.6 NACC HP), detachable head
Pistons, length, 4-1/2 inches.
Connecting-rod length, 10-3/8 inches.
Piston pin bearing, 7/8 by 1-7/8 inch.
Connecting rod, lower bearing, 1-5/8 by 2-1/4 inches .
Front crankshaft bearing, 1-5/8 by 3-7/32 inches.
Center crankshaft bearing, 1-7/8 by 2-3/8 inches.
Rear crankshaft bearing, 1-15/16 by 3-7-l6 inches.
Front camshaft bearing, l-1/8 by 2 inches.
Center camshaft bearing, 2-1/8 by 1 inch.
Rear camshaft bearing, 1 by 1-3/4 inches.
Flywheel diameter, 14 inches.
Wheelbase/Track 106 in WB, 56 in Track (60 in track optional)
Steering Worm-and-nut with 17 in wheel
Tires: 33x4
Colors: Raven Blue or Cartercar Gray with Black running gear
Standard Equipment Leather Upholstery, "rain vision ventilating windshield," Delco Electric Starter, Electric Lights and Horn, Demountable Rims, Speedometer, License Tag Holders, Mohair Top, Extra Rim, Tools and Jack.
Notes: Similar to the Model "7", the Model "9" has many parts that come from other GM companies such as a Northway engine (model 52 or 54?), Weston-Mott axle, Hyatt bearings and Jacox steering.
Differences from the 1914 Model "7"
Body - Completely new body with the addition of a driver's side door, sloping hood, cowl rounding gracefully to it, round top radiator, smooth-sided body, domed fenders with protecting edges fastened with concealed rivets, the elimination of side lights.
Motor - Valves increased from 1-11/16 inches to 1-13/16 inches in diameter, "other slight changes"
Controls - New dash and electrical switches; the throw of the emergency and speed levers moved forward to accommodate the new driver's side door.
Transmission - Transmission disk reduced 1 inch in diameter to 19-1/4 inches
Rear Axle - Gear ratio changed from 3.45:1 to 4:1
Tires - Increased from 32x3-1/2 to 33x4 and rear tires are now non-skids
Wiring - All wiring now in flexible conduit
Other Visual Differences - Spare tire mounted on rear of car, spark plug wires in round conduit